What causes quality problems and what are blowholes?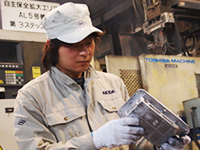 A blowhole refers to a cavity caught inside the die cast product.
Die casting is a manufacturing process in which molten metal is forced into the mold cavity of a die and then solidifies. During this process, (1) shrinkage pores or defects can occur due to parts in the casting where solidification is delayed, or (2) blowholes can occur which are caused by air bubbles that are entrapped in the melt and are not discharged during solidification.
Generally, when a blowhole occurs, impregnation treatment can fill up or close off unwanted or unnecessary cavities. However, this treatment can lead to future problems with pressure leaks or fluid leaks, in critical parts and pressure parts.
High vacuum casting method, a technology which prevents blowholes from occurring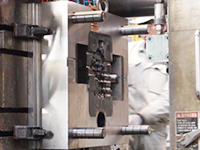 At our company we apply a high vacuum die casting method during the casting process to prevent blowholes from occurring. The high vacuum casting method uses a technique where a vacuum is drawn for the die cavity reducing the pressure and thereby reducing the number of air bubbles that existed initially. If the amount of gas that forms the trapped pores is reduced, you can improve the major pores that are trapped. In addition, you can also make the runs better because there is very little gas that materializes in the filler flow.
Vacuum casting method application example and quality improvement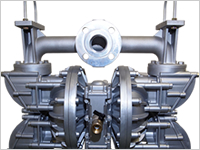 This technology is rarely seen in small to medium-sized or medium-scale die cast manufacturers. However, it is used not only in the automotive industry but in pumps, etc., for industrial machinery.
We currently receive orders for parts from a wide range of fields and strive to deliver sound casting products to our customers. In addition, with our a quality assurance system, which which carries out tasks such as our X-ray fluoroscopic inspection, and we have also achieved a high level QCD that has been developed from our experience in the automotive industry.