Product planning and design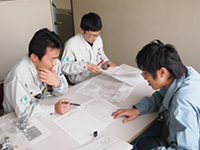 After a customer presents us with the basic specifications, we create the design and perform trial manufacturing, and at the same time, optimize service solutions for die casting mass production. In addition, we are proactive in providing proposals that differ from conventional methods, in order to help customers overcome the issues that they face. We have experience in providing solutions for a wide variety of problems, such as "product integration for complex parts," "processing without cutting," "weight reduction," "increasing strength" and "improving heat dissipation," etc.
Die design and product development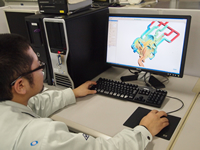 Our biggest strength is providing proposals for die designs and structures using our die design technology.
For product and die design, we have seven employees in our design department with five CAD units and four 3D units available. Furthermore, our services utilize new techniques, as well as taking advantage of our own expertise and resources such as cylinder driven CAM type dies, slanted extrusion and 3 plate molds.
Our services also include the role of sales engineer for potential co-development projects.
Die casting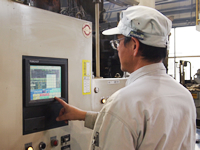 Our motto states that "we are all technicians," and as a result, all of our operators are certified technicians. This sound expertise coupled with skills that are passed down from our senior staff produce our high quality and high precision die cast products.
In addition, we constantly seek to develop efficiency in our operations through various internal activities. We carry out operations using a squeeze method on a horizontal machine and vacuum casting.
Product commercialization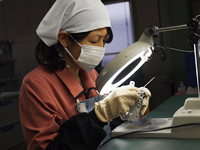 We provide product manufacturing that supports the needs of the customer. To ensure product quality, we perform visual checks, and we also conduct product reviews to share product information. The products are cleared for safety through these information exchanges in accordance with relevant environmental laws and regulations.
We provide all-in-one support up to the delivery of the final product, including packaging. This feature is rare among die casting makers.
Quality management, production management and logistics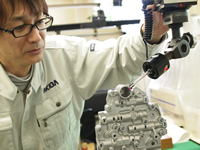 In addition to validation testing using 3D measuring instruments, we also utilize shape measuring instruments for X-ray inspection and various other devices for strength testing, etc., in order to maintain quality management for the customer.
Finally, we provide quick delivery of the product by applying strict production management and using an efficient logistics network.