Customers having problems with casting quality (blowholes)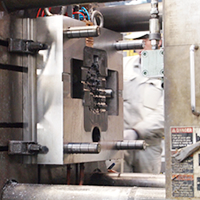 With regards to casting quality, blowholes that occur during the casting process are probably the most common problem. Many of these problematic situations can be solved by filling up the blowholes using impregnation treatment after casting. However, for parts that require a hermetic seal and high strength, this method can lead to further quality issues.
 At our company we apply a high vacuum casting method during the casting process to prevent blowholes from occurring. This technology is rarely seen in small to medium-sized die cast manufacturers, yet is often used not only in the automotive industry but in pumps and for industrial machinery. With our quality assurance system we carry out tasks such as X-ray fluoroscopic inspection, in order to ensure excellent casting quality. We also have a high level QCD set up to meet the demands of the just-in-time production system that is specific to the automotive industry.
Our sophisticated die designs integrate multiple parts for an all-in-one product, without performing any cutting operations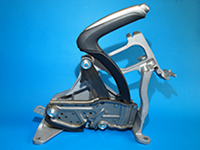 Our unique core technology enables us to achieve sophisticated die designs that would usually show a high degree of difficulty in die casting, such as valve bodies with internal configurations that have extremely complex structures, or important safety parts that are essential for high functionality and high quality.
We actively make VA/VE proposals using new materials and our own unique technology necessary for die designing.
We can offer cost reductions through product integration of multiple parts, which leads to reduced cutting, product weight reductions, and space savings. We strive to create and customize the product according to the customer's needs and requests.
We provide a streamlined production system: die design + trial manufacturing (to optimize mass production) + surface treatment + assembly + delivery of the final product. As a die cast maker, we work hard every day during each stage of the manufacturing process to support the needs of our customers.
Casting equipment
Die cast machine (cold chamber)
| | |
| --- | --- |
| 670CT(UBE INDUSTRIES) | 1 |
| 500CT(TOSHIBA MACHINE) | 1 |
| 350CT(TOSHIBA MACHINE) | 4 |
| 250CT(TOSHIBA MACHINE) | 2 |
| 140CT(UBE INDUSTRIES) | 2 |
Die cast machine (hot chamber)
| | |
| --- | --- |
| 250HT(TOSHIBA MACHINE) | 2 |
| 150HT(TOSHIBA MACHINE) | 1 |
| 50HT(SHINOZUKA MANUFACTURING) | 3 |
| 5HT(HISHINUMA MACHINERY) | 1 |