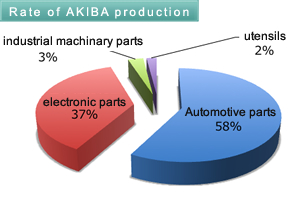 Aluminum alloy die casting
In industrial equipment as well as automobiles, aluminum is essential for materials processing because of its lightweight characteristics that help in improving fuel efficiency and recyclability.
In our company, we use unique dies from our own designs to produce a wide variety of both large and small die cast products, including complex and sophisticated products which cannot be manufactured by other companies. We support interior and exterior parts that have undergone deposition, coating and plating processes, such as lamp reflectors, door mirror bases, footrests, etc. We also produce motors, pumps and brackets, in addition to important safety parts such as CVT hydraulic circuits, steering gear boxes, parking brakes and power steering.
Automotive engine parts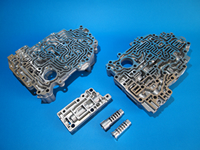 This picture shows automotive engine parts and a CVT valve body made from aluminum die casting. The CVT valve body is an important safety part that supports the control system for automobiles. This is an example of precision machining that requires strict accuracy because it is related to the motor's and pump's noise level (silence).
We are also involved with various peripheral engine parts such as wiper motor frames and wiper brackets.
Automotive brake parts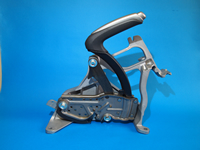 This picture shows a parking brake which is an example of an automotive safety related part made from die casting. This important safety part supports the vehicle's "stopping" performance, and as a final product, it requires precision and consistency.
We use an advanced die casting method with such features as 3 plate molding, slanted extrusion and a core cylinder. These features enable us to skip the machining stage for many items which previously would have required it during the manufacturing process.
Interior and exterior automotive parts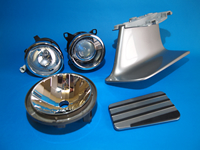 This picture shows examples of an automotive door mirror base, lamp part and footrest space.
We are involved in the die cast production, from the design stage to the completion of the final product, for all types of plating and exterior/interior parts, such as handles for switchboards and for backdoors or hatchbacks on specially equipped vehicles. These items that were mass produced using die casting require functionality, design and superior decoration.
Other parts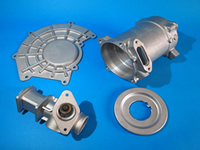 Zinc alloy die casting
The advantage of zinc die castings are their smooth characteristics which are great for surface treatment. This material is excellent for its decorative properties, and is often used with chrome plating for its beautiful luster such as with searchlights and coated products with superior chromogenic properties.
It is also used for its mechanical properties as it stretches well and can be applied to handles in industrial machinery and rotational axes for door mirrors, etc. Our company can provide machining, surface treatment and assembly support for all of these products.
Safety related automotive parts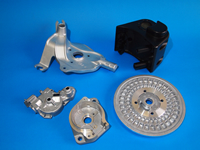 - CVT valve body
- Parking brake
- Steering gear box
Switchboard and control panel parts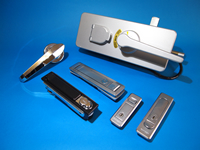 This picture shows die casting examples of railroad car parts, specially equipped vehicles parts, all types of handles, lock systems and semiconductor equipment parts. These parts represent vital parts for switchboards and control panels as well as lock parts for high security systems. We produce these and more under the control of our quality management system.
Depending on the customer's needs, we can provide machining, surface treatment and assembly support. We also have experience manufacturing handles, lock systems, semiconductor equipment parts, specially equipped vehicle parts, and railroad car parts.