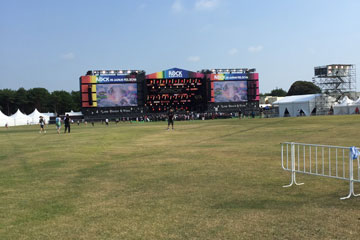 After a long wait the "Rock'in JAPAN 2016" festival has arrived. It's four days in total, but I always end up only participating in the first day, this time around being Saturday, August the 6th. This year was my seventh attendance.
The venue, the Hitachi Kaihin Park.
The trip starts from Gunma prefecture to Ibaraki prefecture so we sleep early and get up around 3AM with plenty of time before the start. Over the years getting up at a weird hour has turned out more trouble than benefit, so we set out at night this time and slept at a highway parking area halfway there.
In the years past our motive was always to listen to as much music as possible and so we would busily run around the different stages while regularly checking the time tables. Lately that's become too much work and we've ended up just placing a tarp in the tent area and drinking. Even for artists we're especially interested in seeing it's turned into a "no big deal" style of attendance.
In other words, we're there to enjoy the "atmosphere."
We can't see the main stage from the tent area, but we can hear the music loud and clear.
"Sound for snacks," might be a cool way to describe it, but to be honest there are some tens of thousands of people meandering through a giant park filled with different stages, all outdoors during a hot season, where you can hear something from no matter where you are. It's an experience so distanced from our everyday lives that we feel the need to participate without fail.
I admit, this year I drank too much and was down for the count halfway through, but I will go again next year without regret.
From Naotyn