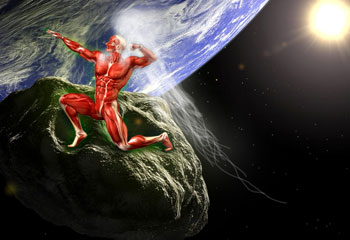 Reality is very, very weird. If you didn't know that, here are some facts to help you better understand that truth:
what if you run at normal speed
maybe start up in the mountains, on the outcropping down and right where I launched the firework, warp down to a tower on the hills, and walk to a tower down by the water.
Hi this is Kyle aka Malkere at Big Kitty Games, it's March 29th 2017, and this video is an update on the world generation in Solace Crafting. I'm currently a ways up these mountains at about 2,200 meters above sea level, and I have the game set to load 32km in all directions giving me about 4,100 square kilometers visible or 2,500 square miles. As a starving indie developer I don't have an amazing computer so I actually have the quality turned down quite a bit, and for people on even lower systems we can turn the settings down even further, or turn them way up for those hardcore gamers out there.
It's very hard to get a feel for just how big the game world is with just a picture or just looking at it from one spot, so we're going to teleport down to this tower, and we're going to run to that tower by the water. These two towers are roughly 4 kilometers apart from one another. Up high like this we can see pretty far, though we could still go quite a bit higher. When we get down to the water it will be a very different view, so remember all the mountain tops we can see from up here.
This crystal here is called a dimension crystal, this is actually the one that we start with here at zero zero. Dimension crystals are a player crafted facility meaning we can construct them wherever we like, and use them to teleport back and forth across mountains, deep underground, or even to other dimensions. So I'm going to teleport down to the dimension crystal I built next to the first tower I named Tower 1. And here we go.
We'll wait a few seconds while the closest four terrains are generated. The rest will be generated in the background. And now we can see, we were up there, and now we're down at the first tower, and we'll start heading to that tower.
I have my running speed pumped way up for this video. Normally we would jog at around 8 kilometers per hour which is about 5 miles per hour, but right now I'm running at around 24 kmph or three times faster. Even at this speed it's going to be a bit of a jog before we get there.
Already you can see the view is very different from a lower vantage. One of my favorite things is to build my own towers so I can look out over the trees and hills and see what i can see. I'm putting in warp pads too for short distance travel that lets you get up and down buildings faster than the massive spiral stairs cases I always end up building in other games.
There is still a lot of work being done here, we don't have a huge variety of encounters that are fully visible from super far away yet. I've been working on a promotional video that very briefly shows all of the major features, after which I'll pump out some more quick videos like this one showing the crafting, building, class, and skill systems in greater detail.
I've got a couple little counters on display here, the one on top is showing our height, and the one beneath that is showing our distance from the center of this world. When we start a new game we start at zero zero. As we move further away from zero zero everything increases in level and difficulty, currently at a rate of 1 level every 3 kilometers. Everything in Solace Crafting uses floats instead of integers which means a monster can actually be level 1.27, and give you 2.3 experience, and so on. So things don't just all the sudden become level 2, as you move around you'll find things that are 1.7, 1.8, and so on. Because distance is always calculated from the center you can travel concentric, like running in a big circle, and everything will stay roughly the same level. The total area of game world between level 0 and level five is over 700 square kilometers. The area between level 5 and level 10 is over 2,100 square kilometers, and it just gets bigger and bigger. Each kilometer generates a lot of lesser encounters, while every four by four sector and every sixteen by sixteen chunk regularly generate larger encounters, so there is plenty plenty plenty to do and see even in just the first five levels.
As you travel further resources like wood and ore start showing up in higher tiers. Resources don't use levels but tiers, because you can use any tier of resources to make an item of any level. Even a level 1 sword can be made using tier 10 metal, and actually the tier of the resources has more affect on the items stats than the level does. So pushing deeper into the wilds has many benefits.
We've been running at triple speed for a couple minutes now and still no tower. I've lost sight of the first tower. There is the mountains we started in.
This massive game world isn't designed to force people to run all over the place, it brings in tons of content for every world that we generate in 360 degrees when you really only need one or two degrees, so you're not just looking for the door to the next level, or waiting for more bad guys to spawn. We're running straight through a couple levels right now though we could choose to level underground, in the plains, in the mountains, in the desert, etc.
10. Negative mass particles accelerate opposite of the force applied to them.
And if that isn't weird enough for you, just remember, you're a ghost driving a meat coated skeleton made from star dust on a rock hurtling through the universe at 370 kilometers per second.
From Postman