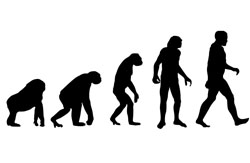 For people under twenty current technology may seem quite normal but thirty years ago computers weren't common knowledge and games were still restricted to pen and paper. The leaps we have taken in these past three decades are truly amazing though often we overlook just how life-changing many of these advancement really are. Even more fun and impressive are the things yet to come!
 I saw a debate on Japanese TV several months ago where one scientist was being laughed at because he said teleportation has been made real. I was already aware of this fact and find the subject very interesting but it was very disappointing to see someone ridiculed for telling the truth simply because it sounds too fantastic. Many of the great scientists of our recent past were ridiculed, even put to death in some cases because their ideas were thought to be too outlandish. Surely we should outgrow this poor behavior.
 I thought I would point out some modern advancements that are changing our lives already:
 1. A cure for HIV. Several people have been successfully cured of HIV recently, making an easy-access treatment hopefully just around the corner.
 2. Cures for cancer. There are many different treatments for cancer showing very high success rates nowadays, though are often ignored by the pharmaceutical community as they may not generate profit.
 3. Teleportation. Data in extremely small forms has been successfully teleported for over a decade already. The amount and distance we are able to do so is increasing every day.
 4. 3D printing. Metals, tools, houses, 3D printers are growing more and more popular. 3D printers that can make 3D printers even. Send them to the Moon or Mars and in the near future we'll be able to build almost anything we want.
 5. Energy from water. Water spark plugs in cars, fuel cells powering houses, and many forms of clean, cheap, energy are trying very hard to get noticed.
 6. Telepathy. Several tests using humans and computers have shown that telepathy is very real and a normal aspect of human biology.
 7. Alien life. There is still water on Mars and there used to be a lot more. Europa (a moon of Juptier) has massive oceans beneath its icy surface that are probably teeming with life. Many earth-like planets have been found around stars in our neighborhood. If we can figure out better ways to travel space the possibilities are endless.
 8. Water inside the Earth. Deep within the Earth there seems to be water of massive proportions. We still know very little about our own planet and our own moon, though we like to pretend we're smart.
 It can be easy to forget just how amazing life and the universe really are when you're too busy to look up at the stars. Never forget that we are always learning and always growing. It is my hope that through science and technology we can ultimately find peace and health for all.
From Postman