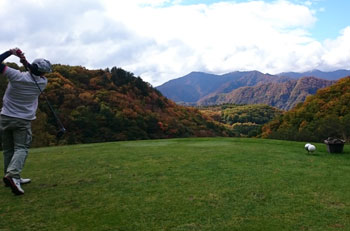 Akiba's Autumn golf competition recently took place. At third place this year's Spring didn't go as expected for me, lowering my handicap. Winning would be difficult, so this time I aimed for par play (net).
 Even more important than winning the tournament was managing who became next seasons secretary. The rule for some time has stood as the two employees who came in second and booby(last) become next seasons secretaries, though only seven employees were participating at this match. Seven employees all with the potential for a victory.
 On the day of the competition we were welcome by good weather perfect for golfing.
 The first hole I safely grab a par save. The second hole OB, one penalty; one penalty leading to a succession of painful plays. My next shot was totally unstable. The thought of being picked as secretary due to a horrible game started crossing my thoughts. After that I got back in the swing of things, and in the end pulled in the moderate score I was planning on.
 All the was left was to measure up to the other players...
 At the time of my hole out, I had already escaped the fate of last place and next seasons secretary. However, not until everyone finished would we know for sure. And the results...
 Since the rule was put in place employee T was again picked for the third time as next seasons secretary. The second employee chosen as booby was a mere five strokes beneath me.
 Next competition will be early Spring.
 Fierce competitions like this one are many yet to come.
From 3+