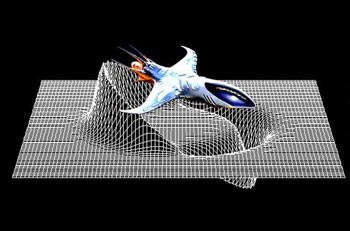 NASA has recently admitted that the EM drive (electromagnetic drive) seems to be working, even though they don't fully understand how. In fact no one really knows why, not the inventor nor the people that built it. Normally you can't make forward motion without expelling something backwards, yet using only electric microwaves that's exactly what the EM drive is doing. No gas, no explosions, no wind nor gravity, just a strange creation of force.
An interesting point is that gravity actually does this all the time. We don't know how it works, it doesn't need to expel anything backwards, but we're so used to it we don't question it. The EM drive is producing a similar effect, but as a new manmade invention people are not ready to accept it as fact like we do with gravity.
The race is on to see who can build an efficient and powerful EM drive, with the hopes of whizzing around the planets in a lightweight spaceship no longer burdened down by thousands of gallons of rocket fuel. Maybe this will lead to unlocking the secrets of gravity as well, and I can finally get my hands on a hover board!
From Postman