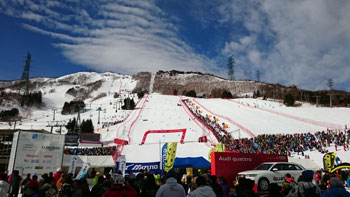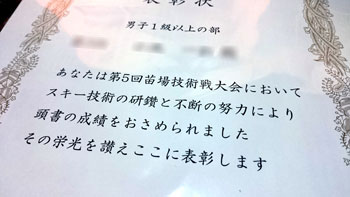 Those words were written on the testimonial I received at a skiing competition I was invited to by the ski school sponsoring the event. Just reading the words it sounds like I tried very hard, but in truth that's not really the case...
It's been several years since I even went into the ski school, just enjoying free skiing instead. My technique has probably improved, but it's still difficult to maintain the status quo...
Effort and studies are pretty far from the truth.
A week later top athletes from around the world competed in the Alps Ski World Cup at Yuzawa Naeba, a first in ten years for Japan, and 41 years since the last world cup at Naeba.
There was a lack of snow due to the rare warm winter we had this year, but the courses were built to near perfection several days prior to the race. As it happens there was a heavy snow after that, leading to the manual removal of a lot of snow.
Still, both days of the competition were blessed with Spring like weather. Then during the night, heavy snow. Even still the event staff were able to create what coaches from around the world were impressed with commenting "this is a world leading competition course."
I assume for many of the staff it was their first world cup, yet it's safe to say their "studied technique and continual effort" led to a successful competition.
Here at Akiba Die Casting, I want our work to go just as smooth.
Even if I don't get a testimonial.
From 3+