2017/06/27
Luxurious Thai Cuisine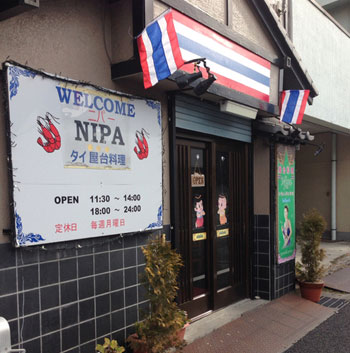 Isn't food just wonderful.
An update from me who finds happiness in delicious food.
This time I would like to introduce a delicious Thai restaurant here in Takasaki, Gunma, known as Nippa. It's a restaurant where you can enjoy authentic Thai cuisine.
Lately cilantro has grown exceedingly popular, and there are certainly a lot of fans of Thai cuisine. I get the feeling the combination of pungent, spicy, and other flavorful ingredients into a harmony of taste has an appeal somewhat foreign to Japanese cuisine.
I especially recommend their green curry and water spinach stirfry. Green Curry is made using coconut milk so it may not appeal to everyone, but this restaurants green curry is luxurious!!! The sweetness of the coconut milk -> the spiciness of the spices -> the tantalizing aroma of this dish produces many layers of enjoyment.
The water spinach stirfry is flavored with Thailand's "sweet and sour soybeans" (I guess it's sort of beany) that goes perfect with the crisp water spinach for an intense flavor!!!
During lunchtimes they have all you can eat and are always packed. I suggest you get there early.
From Creampuff Fingers