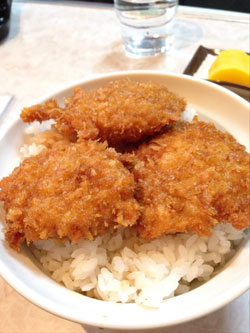 Isn't food just wonderful.
 An update from me who finds happiness in delicious food.
 This time I would like to introduce a local restaurant serving since 1919: Eijyu-tei, and their katsudon (fried pork cutlet bowl).
 This katsudon which I have been indebted to since childhood is in two words deliciously cheap! A fair price for your average katsudon is give or take 800 yen, but this restaurants katsudon A is available for 400 yen. Don't be expecting low quality due to a low price!
 These freshly fried katsu get doused in a Japanese style dressing and piled to the count of three slices atop a bed of rice. Hold on a second! Here in Takasaki when mentioning fried pork we're talking about sauce topped katsudon, not your average steamed egg mix.
 There are three flavors, katsudon A (Japanese dressing), B (steamed egg), and C (Jumbo). I always order the katsudon A with extra rice and an extra slice of pork.
If paying a visit to Takasaki, by all means stop by Eijyu-tei and give their katsudon a taste. This restaurant only serves lunchtime so be careful.
From Creampuff-fingers