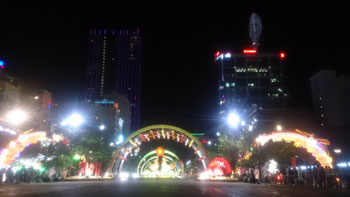 The Chinese New Year's has ended, putting the rest of Asia back into its work cycle amidst the suddenly warming four seasons.
Much like China's New Year our overseas factory in Vietnam has an annual celebration of its own called Tet. People rush from the cities back to their hometowns creating an abnormal experience with a sudden rise in crime from the greedy.
Officially Tet 2017 takes place on January the 28th making the holiday span from January 26th through February 1st. Most companies will go on break from January 25th through February 5th, creating quite an impact in our workflow here in Japan.
I was actually in Vietnam until the 24th with my 1 hour route going right through everyone clambering to the bus terminals. My travels took over two hours longer than normal. Looking out from the car I was in amidst all that traffic, you get to see people piling giant packages and two or three people onto a motorcycle like there's nothing to it. People riding in taxi's will stuff them full of packages and bags the likes of a family moving to a new country, and then squeeze in as many people as will fit.
It was an event that gave me a rare firsthand experience of the strong national character of the Vietnamese people, to whom Tet is an important holiday, just as New Year's is here in Japan.
From Pumping both wheels