The weather feels like its dived head first into Autumn after such a scorching summer doesn't it.
 This time around I'd like to touch on a corner I turned towards the Honda Technical Research Institute while engaging in some scorching solo touring.
 On the last day of Summer vacation I mounted my iron horse dressed for rain gear amidst a slight shower. I pulled on the reins planning to see both mountain and sea on an eastward journey. About the time I crossed the Gunma border the sun reared its head, and by the time I could see the ocean mid-summer had returned. Being the last day of vacation not many bikers were on the roads, and perhaps due to sharks not many tourists were in the waters. I decided to leave the ocean for later.
 This trips primary destination was the Mobility Park with its Twin Ring track, operated by a subsidiary company of Honda. Still in the middle of summer vacation there were hordes of families throughout the area creating a Twin Ring very different from what I remembered roughly a decade ago. But, stepping into the Honda Collection Hall I found a stoic sanctuary.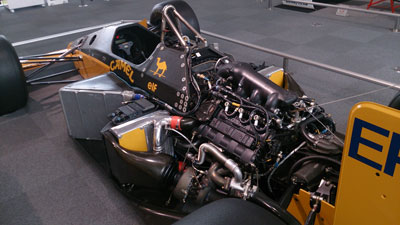 The purpose for coming to the Twin Ring this time around was the
 POWERED by HONDA~1000 horse power turbo memoirs~Open-engine Exhibition
 as named, an exhibition of Honda's most powerful turbo engine F1 machines.
 At the exhibition there were two cars, a McLaren Honda MP4/4 and a Lotus Honda 100T. Both cars are 27 years old, but in their time created attention for Japanese Technology. The exhibit brought back memories of when Ayrton Senna and Soichiro Honda were called number 1 on television.
 The history of attempting so many tests to reach their glory moved me. I plan to imbue the various forms of stimulus I encountered into my future work.
From Pumping both wheels